August 15th, 2019
It's the hottest time of the year! When it starts heating up outside the last thing we want to do is cook over a hot stovetop or warm up the oven. That's why we tend to stick to foods that are light and refreshing like watermelon. We love shopping at the farmer's market, it's always ready with lots of fresh vegetables which are full of fiber and moisture!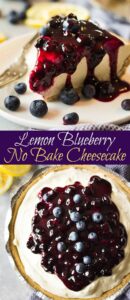 Another way we like to take advantage of the warm weather while we have it is by enjoying a lovely picnic. It's lake season in the area, and picnicking on the pontoon is always fun! We like to pack fresh fruit, fingerstyle appetizers, chips, lots of water, and lemonade. During the weekends, we like to be out and about as much as we can! Some foods we like to have on a long road trip are sunflower seeds and crackers.
It's August and blueberries are plentiful. I made this no-bake blueberry cheesecake for guests. Enjoy!
LEMON BLUEBERRY NO-BAKE CHEESECAKE
This creamy, light, and fluffy Lemon Blueberry No-Bake Cheesecake recipe is the perfect springtime dessert and hooray for not turning on the oven!
INGREDIENTS
LEMON CHEESECAKE:
1 (9") graham cracker crust; store-bought or homemade
1 cup heavy whipping cream
1 (8 oz) package cream cheese,
softened
1/2 cup lemon curd; store-bought or homemade] (I highly recommend [homemade)
1/3 cup powdered sugar
1 teaspoon vanilla
BLUEBERRY TOPPING
1/4 cup water
3 tablespoons sugar
2 teaspoons cornstarch
3/4 cup blueberries, fresh or frozen
1 tablespoon lemon juice (fresh is best)
1/2 teaspoon vanilla
INSTRUCTIONS
LEMON CHEESECAKE:
In the bowl of your stand mixer, beat the heavy whipping cream until stiff peaks form. Set aside. In a separate bowl, beat the cream cheese until smooth. Add in the lemon curd, powdered sugar, and vanilla and beat until well blended. Fold in the whipped cream.
Spoon into the prepared crust and smooth the top. Place in the refrigerator for 4 hours to chill.
BLUEBERRY TOPPING:
While the cheesecake is chilling, combine the water, sugar, and cornstarch in a small
saucepan. Stir to combine.
Add in the blueberries and lemon juice.
Simmer over medium to medium-low heat for 5 minutes. Pour into a heat-safe container and place in the refrigerator to cool. When cool, spread over cheesecake layer and top with sweetened whipped cream or Cool Whip.
NOTES: Prep time reflects chilling time in the refrigerator.
NUTRITION INFORMATION:
YIELD: 8 SERVING SIZE: 1
Amount Per Serving:
CALORIES: 350 TOTAL FAT: 22g SATURATED FAT: 11g TRANS FAT: 0g UNSATURATED FAT: 9g CHOLESTEROL: 65mg SODIUM: 178mg CARBOHYDRATES: 35g FIBER: 1g SUGAR: 22g PROTEIN: 3g
We hope you enjoy the rest of your summer and we look forward to the next time we see you in our office!