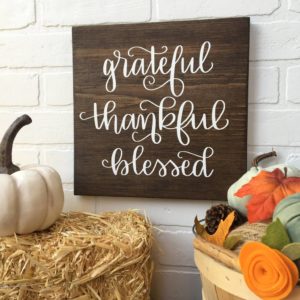 The beginning of the holiday season can mean a lot of things to different people. For some, this might be a time of Lefse baking, Black Friday shopping, and cheering for America's football team (the Dallas Cowboys). For others, it might be enjoying the delicious pumpkin pie recipe found on the back of Libby's canned pumpkin. Ultimately, Thanksgiving is a time when we express gratitude for the people who bless our lives.
This Thanksgiving, we will be spending the holiday with our families. As our family members grow older and the time spent together is fewer and far between, we treasure our visits. Thanksgiving is the best time to celebrate family and enjoy a wonderful table feast without the stress of shopping for gifts.
During this holiday season, we are truly blessed to have so many people in our lives to be thankful for. We are thankful for our amazingly talented dental team: Bree, Kimmi, Rachel, and Madison, for their hard work and uplifting presence in the office. Most of all, we are grateful for all of you, our patients, for bringing your beautiful smiles to our office each and every time you visit. Happy Thanksgiving!